"Venice is a unique city not only for its artistic richness and natural environment but also for its particular morphology. The city is made up of 121 islets linked by 435 bridges, suggesting that the city is difficult to move about in and enjoy not only for people with reduced mobility but also for the elderly carrying their shopping, parents pushing a pram and visitors with their luggage."

Planning is the key to the visit.


If mobility is an important issues for you or your loved one, here you can find some suggestions about the most suitable apartments of our listing. (please be aware that these properties are not fully wheelchair-accessible)


Ca' Dell' Ulivo is on the ground floor (with one little step) directly on the Zattere canal-side promenade in Dorsoduro, very close – and with no bridges to cross – to the Accademia Galleries, to two vaporetto (water bus) stops 'Zattere' and 'Accademia' and to the Alilaguna boat stop connecting the Zattere to Venice's Marco Polo Airport.
The Bridge Ponte della Calcina, close by the apartment doorway, is wheelchair accessible – by means of a temporary ramp – from September to June. Turning left just after it in few minutes you can get to the Peggy Guggenheim Collection Guggenheim and further on, crossing the bridge Ponte della Salute (wheelchair accessible from September to June), to the Punta Della Dogana Museum of Contemporary Art.
The delicious little Lo Squero 1 – on the ground floor (with one step) of a Venetian 'casetta' and with a little secret courtyard/garden – is very near to Ca' Dell'Ulivo but here with no bridges to cross to visit the Peggy Guggenheim Collection while the Accademia Galleries and the vaporetto (water bus) stops 'Zattere' and 'Accademia' are beyond the Bridge Ponte della Calcina (wheelchair accessible from September to June by means of a temporary ramp).


Ca' Del Santo is on the 4th (top) floor reached by lift right above the Riva Degli Schiavoni waterfront between St. Mark's Square and the Arsenale. The bridges on the large promenade are wheelchair accessible – by means of a temporary ramp – from May to November, providing easy access to St. Mark's Square on one side and the Giardini della Biennale on the other.


The Eastern part of Castello – close by Ca' Del Santo apartment – provides a pleasant wander with considerably less bridges then the rest of Venice and many parks and gardens. The wide Via Garibaldi, with its traditional neighbourhood vibe and (beyond the long step-free bridge Ponte de Quintavale) the charming San Pietro di Castello Church – the only one surrounded by a lawn – are easily reached, with plenty of bar, restaurants or benches for resting.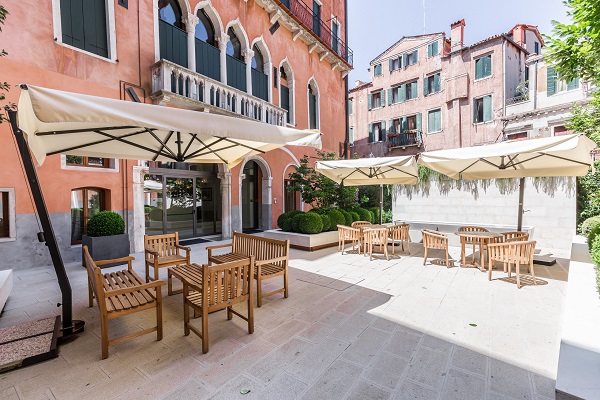 La Corte dei Cuoridoro 1 – just added to our listing – is on the ground floor of an impressive Venetian Gothic palazzo complete with coat of arms, Gothic Fiorito windows and exquisite water doors. This luxury palazzo apartment unfortunately has some steps inside (one step to the main bedroom and three steps from the main living space to the studio/bedroom with the double sofa) but no bridges to cross to Saint Mark's Plaza, the towering Campanile, the Basilica, the Doge's Palace, the Clock Tower (Torre dell' Orologio), Harry's Bar, Caffé Florian and George Clooney favourite restaurant "Ristorante da Ivo" . San Marco Vallaresso (water bus) stop can also be reached without bridges .
Whatever is your accommodation, beware that arriving to Piazza San Marco from the Ala Napoleonica there are three steps, while via "Bacino Orseolo" you are on the same level of the Piazza. Museo Correr, Museo Archeologico and the Biblioteca Marciana are accessible, but not the Clock Tower. The Campanile has a lift but there are some steps to get to it. The main areas (though not all) of the Basilica and the Doge's Palace are accessible but with precaution. However, in case you need the lifts, it is advisable to call the Museums before starting the visit.


Last but not least our oustanding and beloved Ca' Cerchieri Piano Nobile is served by lift and has a Grand Canal water entrance for convenient arrivals, departures and sightseeing trips by water taxi.
But, if you don't use the water taxi you must cross some bridges to explore Venice.
Wheelchair-accessible water taxi is available and we can book it for you, but a notice of at least 24 hours is required.
We really hope this has been helpful, we are always at your disposal to help and answer your questions, please feel fee to write [email protected] or call +39 041 24 11 149 us.